SSH Keys¶
Windows¶
Download and install the Putty Installer from the official download page (chiark.greenend.org.uk).
Create an SSH key pair¶
Start puttygen, select ED25519 and press the Generate button. Alternatively you can select SSH-2 RSA and increase the Number of bits in a generated key field to 4096: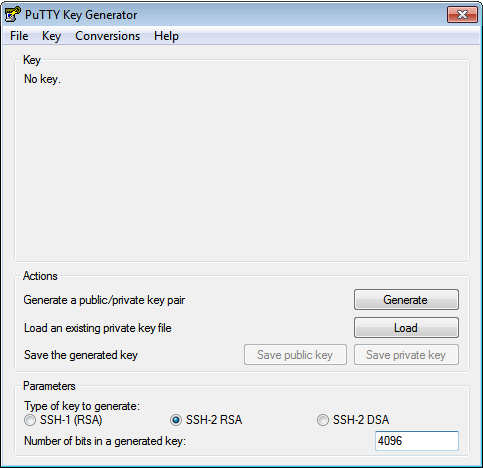 Follow the instructions and generate randomness by moving the mouse on the requested area.
When the key is generated, change the Key comment to your e-mail address and enter a secure Key passphrase. Press the Save public key and Save private key button and copy the text in the upmost field: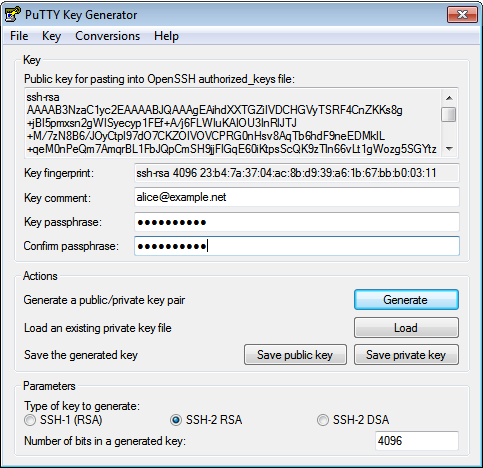 SSH Agent (Pageant)¶
Putty comes with a SSH agent named pageant. It comes bundled with the putty installer or you can find it on the putty download page. After you started Pageant, it will hide itselve in the systray. To add your key, open the Pageant dialog by right clicking on the systray icon. Please refere to the Pageant documentation for more information.
Agent Forwarding¶
WARNING: "Agent forwarding should be enabled with caution. Users with the ability to bypass file permissions on the remote host (for the agent's UNIX-domain socket) can access the local agent through the forwarded connection. An attacker cannot obtain key material from the agent, however they can perform operations on the keys that enable them to authenticate using the identities loaded into the agent." (openssh manual)
For several actions like checking out a git repository or copying a site form stage to prod you need to forward your SSH Agent. First you have to browse to Connection->SSH->Auth on the left-hand side, then you have to enable the Allow agent forwarding checkbox: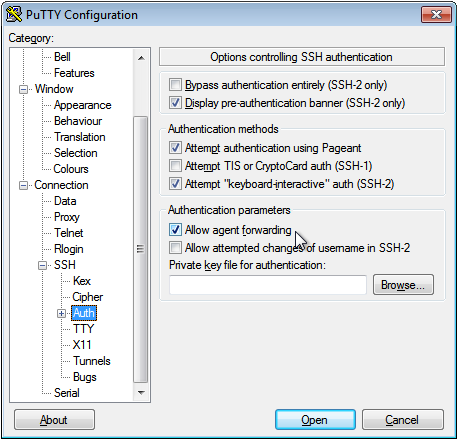 Afterwards you go back to Session and Save the Default Settings: